It is always best to hire a qualified, licensed attorney for the preparation of your will, living will. However, below are excerpts from the State of Florida website for information to Notaries and individuals concerning wills. 
Florida law provides that a competent adult may make a living will directing the providing, withholding, or withdrawal of life-prolonging procedures in the event such person suffers from a terminal condition. A living will must be signed by the principal in the presence of two subscribing witnesses, one of whom is neither the spouse, nor a blood relative of the principal.

Section 765.303, Florida Statutes, provides a suggested form of a living will. The document requires two witnesses but does not require notarization. However, if your customer insists on acknowledging his or her signature, you may do so.

Remember, if you are not an attorney, do not advise your customer about the contents of the document, nor the correct procedure for executing the document. If your customer has any questions, you should suggest that he or she consult an attorney for assistance.
Making a will self-proving shortens and simplifies the steps of probate. Section 732.503, Florida Statutes, prescribes the method by which a will (or an addendum to an existing will, known as a codicil) may be self-proved. The process involves the testator and witnesses taking an oath and signing an affidavit stating that they signed the will in the presence of each other. The notary is responsible for administering an oath to the testator and the witnesses, and for completing the jurat.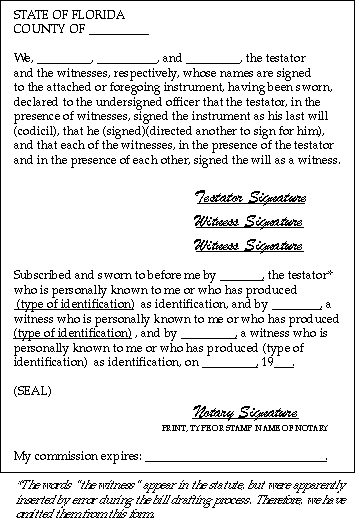 Witnesses
The notary does not have the responsibility of furnishing two witnesses for the execution of a self-proving will, or any other document.
Because the witnesses' signatures are also notarized on a self-proved will, the notary may not serve as one of the witnesses. The notary may not be a witness of their own signature. This also eliminates the notary's spouse, son, daughter, mother, or father from being one of the witnesses as well.
The above affidavit is the form prescribed in §732.503, Florida Statutes.
* Disclaimer:  Although a commissioned Notary Public and a Paralegal, I am not an attorney licensed to practice law in the state of Florida, and I  cannot give legal advice, accept fees for legal advice, or advise whether a person should or should not sign a document.  Further, I am not authorized by law to prepare legal documents except under the supervision or direction of an attorney licensed to practice law.   No content of any page on this website is to be taken or construed as legal advice.